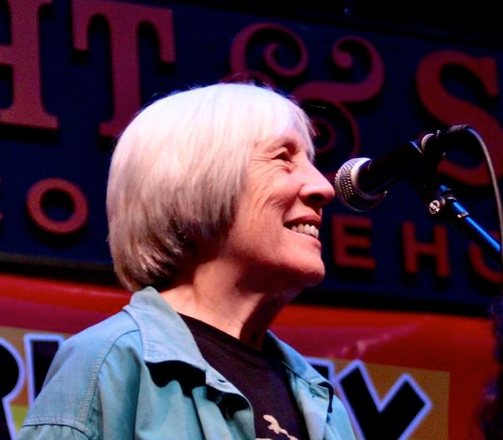 Nancy Schimmel, photo by Sandy Morris
Welcome to my blog. I have been writing a biography of my mother, songwriter/activist Malvina Reynolds, but I keep getting interrupted—first by Occupy, and Occupella, a song-leading group that grew out of it, blogging at occupella.org, making a book out of the blog, Occupella: Singing in the Lifeboats. Then came The Former Guy, and now the pandemic he assisted. Both the guy and the virus are distracting, scary, and exasperating.
So on this blog I will be posting about my family (my father, William "Bud" Reynolds was an organizer of the Ford Hunger March of 1932 and other disruptions), about the process of writing the bio, and also writing about these weird times and about my own life, writing songs, walking my neighborhood, working on a fantasy novel for children. It's a good time to be hanging out with witches, dragons and trolls. The other kind of troll.
My old blog, Writing Malvina, got interrupted too. You can find it by clicking 2010 Blog at the upper left.
---
Wednesday, May 11, 2022: Queen of the Desert
And Richard Neutra

I read a New Yorker article about a woman who inherited a small town in a valley between Death Valley and the Nevada border. She has invited ecologists there to help save the local endangered pupfish and voles. She is working to make their habitat a national monument. She would like to make the area an ecotourism destination. It would certainly be one for me if not for the pandemic. If I'd read about her five years ago I would have been right down there. I caught my father's love of the desert when we moved to Long Beach when I was in fifth grade. I remember driving through Death Valley on a trip, but mainly we went to the high desert around Victorville.
This morning as I was walking the dog I was thinking about that woman's town. The other attraction, besides the desert, is a house designed by Richard Neutra. He was my favorite architect when I was in high school. My mother had a singer friend who lived in a housing project for defense-plant workers he had designed. The project was on a hillside, and when we visited her, I saw that it had poles from hillside to roof that looked like tree trunks, instead of square posts. This made it look not like a project. Then my mom and I went to a songwriters gathering in a Neutra-designed upscale home. I can still see it—a cozy living-room with clerestory windows and built-in sofas. The dining room was open to the living-room but defined by a step down and a raised ceiling and tall windows that gave it a separate and more formal feeling.
I thought about being an architect when I grew up. I drew floor plans. My carpenter father had, by then, gotten a contractor's license and then a real estate license and had built and sold an apartment house. I remember walking around when the walls were just studs and thinking the closets are too small.
Later, when I was a roving storyteller, I saw a couple of Frank Lloyd Wright houses in the Midwest. They were pretty, especially the stained glass windows and the furniture, but I wouldn't want to live in one. And I didn't like the Guggenheim at all. Part museum, part waterslide, it chutes you past the art instead of inviting you to linger, and you had to edge your way into the women's bathroom tucked into the bottom of the whorl.
I think I'm going to write to that woman. Send her my mother's song, "The Desert."
If you subscribe to the New Yorker you can read the article here. If not, search for Susan Sorrells, Shoshone, California and you'll find several other articles.
Comment from Nancy Schimmel posted 5-12-2022:
Sorry, folks, I did it again--sent too many subscriber messages. It's been a while since I posted and it's late at noght. I'll post again sooner and get it right then.
Comment from Jean Tepperman posted 5-12-2022:
I totally had the same reaction to the Guggenheim -- felt like I had to hold on to avoid sliding down.
---
Thursday, Mar 17, 2022: The Little Land


My family told stories. One I heard from my mother is this story of how her father, David Milder, became a naval tailor. When she began writing an autobiography, she wrote it down:
My father was a sailor in the U. S. Navy when I was born and until I was about two. He never told us much about the old days, but we did know about how he got to be in the Navy, he a pious Jewish boy from Buda Pesth.

He had come over to this country alone when he was about fourteen to some cousins in New York.

[In Hungary] he'd been a tailor's apprentice, going to the Yeshiva, the Hebrew school, before dawn, then working all day in the shop. The workers got fed out of a pot of beans that lasted the whole week, and they ate beans, fresh or spoiled. His parents were poor--that's all I know about them. His mother worked for a caterer, and Dave himself was a good cook….

When Dave came to the U. S., it wasn't all that much better...than he'd had it at home. Dave was homesick, and the sweatshops were hell.

On Saturdays, when the shops were closed and he didn't work, he would go down to the New York waterfront and watch the ships come and go.

A man who could speak his language got talking to him and asked him what he was doing. He was wishing he could be on one of the ships that would take him back to Buda Pesth.

I'll fix you up, the man said.

He took the boy up to some kind of office, Dave answered some questions, signed his name to a paper, and found himself in the U. S. Navy for a four-year hitch. He stayed for three enlistments…

He was immediately away from the East Coast Jewish community, never spoke Yiddish or Hungarian, and learned English with an accent from the New York Irish that made up the crew. Dave spoke with a touch of the brogue till his dying day. With his handsome dark looks and his heavy black mustache, he could have been a Black Irishman. Perhaps that is why I have always favored the music of the Irish speech.

One of the songs I wrote in 1958, "The Little Land," was picked up and sung as a true Irish song by David Spence. He heard it on radio--it was recorded by Glen Yarborough with the Limeliters--and took it, himself an Irishman, for an Irish folk song. We laughed over it together, he and his wife and I, when I heard him sing it at a coffee house in Palo Alto, and I showed it to him in my song book, "Little Boxes and Other Handmade Songs." I had made the song, tune and all, out of the whole cloth and my feeling for Irish folklore.
Malvina Milder Reynolds died of pancretitis on St. Patrick's Day, 1978, at the age of 77, at the Oakland Kaiser Hospital. She died with gigs on her calendar.
Comment from Margret RoadKnight posted 3-17-2022:
Wheels within wheels... love it.
Comment from Renee posted 3-17-2022:
"I had made the song, tune and all, out of the whole cloth"

Really liked this story that begins with " my family told stories"

:)
---
Friday, Mar 11, 2022: Prompt Write


The writing group I'm in had the poem, In Those Years, as a prompt tonight. The narrator is at the other end of the telescope from me.
Here's what I wrote in response:
Prompt:

I want to go down in history
in a chapter marked miscellaneous
From "In Those Years" by Staceyann Chin

in a chapter marked miscellaneous
not in a footnote to my mother's chapter
not even one of those great long footnotes
like in that early feminist history book
Whose name and author I can't remember
but could recognize

what I can't recognize
are the photos with traffic
lights in them
my eyes are not that good any more
surely they have robots
with better eyes

I am that old woman now
though until covid
being old didn't affect me that much
now my dear partner and I
get into arguments about
what we thought the other one said
because neither of us hear well

yesterday and the day before
we went walking in the world
beyond our deck for the first time
since omicron
we went to Live Oak Park
and there were those gnarled roots
spidering over the creek
where I thought, as a child,
Rumpelstiltskin lived

now I know the creek's name
is Codornices, doves
and the poor dove of peace
as threatened now as when
I was the young activist
turning the handle of
the mimeograph machine
marching, singing

all my grown-up life
marching, singing
turning on the switch
and watching the leaflets
fly out of the electric mimeograph machine
then going to the copy store
now I click the song sheet
on my computer with my wrinkled
spotted hand on the mouse
and the printer on my desk
offers its generous pile
of paper

yes, file me under miscellaneous
peace, women's rights, pride marches
anti-fracking, and now peace again
but always singing

Comment from Nancy posted 3-12-2022:
Sorry for the triple notice to subscribers. I'm still getting the hang of this thing.

Comment from Sandy Pliskin posted 3-12-2022:
Wow. I love the stream of consciousness-like presentation of images and stories

Comment from Renee posted 3-12-2022:
Love this piece :)
in it's entirety but also in particular this:

"we went to Live Oak Park
and there were those gnarled roots
spidering over the creek
where I thought, as a child,
Rumpelstiltskin lived"

spidering over the creek!!!

Comment from Jean Tepperman posted 3-14-2022:
we have the same thing -- not being able to hear each other.
This is a lovely poem

Comment from Hali Hammer posted 3-14-2022:
Wonderful, Nancy!


Comment from Nancy Schimmel posted 3-18-2022:
Oops, actually codornices are quails.

---

Monday, Feb 28, 2022: My Russians


Everybody is posting on Facebook about standing in solidarity with the Ukranians, as we should, but I also stand with those Russians who are, at great peril, protesting the invasion. Here is something I wrote a good while ago about the Russians I knew as a child.

I had taken ballet lessons at a neighborhood dance studio in Berkeley, and took them again in Long Beach at home. The home lessons started when my mother was teaching English to the Russians working in the lend-lease office for the Los Angeles harbor area during World War II. The Russian couple working there got pay increases when their English improved so they paid my mom for lessons. The secretary, Shura, was a Russian-American immigrant, a former ballet dancer. She also wanted to improve her English so she gave ballet lessons for me in exchange for English lessons from my mother. My father made holders for a barre which he fastened to the jambs of the sliding door between the living room and the dining room. My mother played the usual classical piano pieces that accompany ballet practice. Shura had her straight dark hair in a bun, but on her this did not look frumpy. My parents invited two sisters to take lessons with me. They were the daughters of my mother's first husband with his second wife. We girls felt like we were related though we knew no word for what we were to each other. I was the one with the tip of my tongue sticking out of the corner of my mouth. "With the feet, Nancy," Shura would say, "not with the tongue."

I liked Shura a lot. Her husband, Kostya, was also a former dancer. He had worked as an animator for Warner Bros. cartoons, and could make his face look like Bugs Bunny. A few years ago I saw Frank and Ollie, a documentary about a couple of Walt Disney animators, and they routinely made faces to help them get the expression right on their characters. Shura and Kostya came to parties at our house (my parents threw lots of fund-raising parties for various causes) and when everybody danced, I got to watch them dance with each other. Their daughter introduced me to Spike Jones records, which I loved. The Russians from Russia went home after the war, but Shura and Kostya remained our friends until my parents moved back to Berkeley in 1953.

The only time I ever saw my father drunk was at a dinner at Shura and Kostya's house, during the war. The Russia Russians were there with their kids, the vodka was flowing freely, and people kept proposing toasts to Roosevelt, to Stalin, and to victory over Hitler. It would have been an international incident to refuse to toast, so my father kept drinking.

---

Monday, Feb 21, 2022: Hooting the President
A Story for President's Day

My father, William Reynolds, ran for governor of Michigan on the Communist party ticket in 1932. Here's a story that he liked to tell about those days. Luckily, he also wrote it down in a letter to labor lawyer and songwriter Maurice Sugar.

"When Herbert Hoover came to Detroit in 1932, he was met by about 20,000 people at the station at Third and Fort. The unemployed, who just loved Herbert, were concentrated right at the corner where he emerged from the station, and set up a really effective anti-demonstration. The cops tried to break it up, and my friend Walter Eicher climbed an iron light pole to better command his audience. A cop started up after Eicher, and I grabbed the cop by the leg so he couldn't climb. The result was that the whole demonstration was turned into a protest, as the attitude of our strategically situated thousand or so quickly communicated itself to the rest of the demonstration. Another result was that Walter Eicher, Willie Goetz, another member of the Young Communist League and I were thrown into jail. We were sent up to the 9th floor and put into a cell where we could observe the elevator and the command post of the floor, and Walter began making demands, 'Bring us toilet paper, you sons of bitches,' and everything else you could think of, with the result that, after an hour of this, we were taken down to the first floor and thrown into the bull pen, which contained about 30 to 40 inmates, more or less changing as people were called out for questioning, sent to cells, and new people arrived. About the first question asked in a situation like this when one sits down next to another prisoner is, 'What are you in for?' True to form, the prisoner next to Walter said, 'What are you in for?' and Walter replied, 'Non-support.' The other guy said, 'Who, your wife?' and Walter replied, 'No, the President.'

"That was a singing period, and Walter and the leaguers were in good voice. Walter started out singing with some of the old American standards that everybody knew, and gradually nearly everybody joined in. Then he shifted to the work songs, such as 'Solidarity,' 'Hold the Fort' and others, and ended up with Walter and the leaguers singing the 'Internationale' and every prisoner marching around between the benches with his fist in the air.

"In the morning, after daylight, Walter outlined a big sign on one of the walls, the one that had the entrance door and couldn't be watched from the outside. They hadn't taken our possessions away from us, and there were quite a number of pencils in the crowd. Walter quickly blocked out the letters and words, and the inmates all fell to work blacking them in. The sign read: Vote Communist--For Unemployment Insurance, and then followed all of the slogans that were current in the campaign. Some time later, a sergeant, I think, came in, faced around to the wall and the sign, and read the whole thing through aloud, and then said to Walter, 'Yes, but vote for who?' Walter said, 'Comrade, that's a very good criticism,' and proceeded to add, 'For President--William Z. Foster. For Governor--William Reynolds. For Congress--Walter Eicher.' 

". . .About 4:00 that afternoon, we were brought into court on a writ filed by you [Sugar], and after some very puzzled and informal questioning of the prosecutor by the judge, the judge asked, 'Just what are these men charged with?' And the prosecutor answered, 'Hooting the President.' The old judge answered, 'If that is a crime, there are about 15 million of us guilty.' We were released forthwith."

Comment from Carole Leita posted 2-21-2022:
Great story!

---

Thursday, Feb 17, 2022: Do the Days Chase You Down?


I said in my first post that it's easier to write online than to sing. A few of us get together with a leader who gives prompts—a few words, a whole poem, a photograph—and we write whatever that evokes, or whatever is on our minds and wants to be written. Then we can read our writing to each other or pass. I never know what will come out, a story, a poem, or garbage. Here is one from the olden days when I went regularly to a writers and artists retreat at the lovely retreat center just outside of Occidental, St. Dorothy's Rest. I was closer to eighty then than I am now.

The prompt: What is your relationship to time? Your character's? Do the days chase you down or do you have those moments that seem to stretch into longer than they should, like when you are in the dentists chair. Does time ever bend for you? 

Do the days chase you down?

I felt such nostalgia for the California landscape—the oak savanna and the dairy farms coming up through Marin County the back way here on Friday, as though I were saying goodbye to it. Even though I looked up the average life expctancy of white women in the US and it is eighty years so chances are I won't be saying goodbye just yet.

Same thing this morning, walking on the old railroad right-of-way through the redwoods, middle-aged ones standing tall, young ones circling around the stump of an old one. This is second growth, all the old ones are gone. That makes it an everyday landscape, not a place set aside to be awestruck in. 

The California coast range, north and south, is the landscape I grew up with. I am a city girl, Berkeley and Long Beach and San Francisco, but these oaks and bays and vanilla pines are the landscape of my connection with nature beyond empty lots, the scene of my summer camp days as a camper and counselor—except for that summer on Vashon in Puget Sound. 

Later, hiking with my husband and friends on Mt.Tam. Going to a wedding on it, the bride in a white lace pantsuit, guests holding branches over the path for the couple to walk under. And that rock-climbing lesson, was that on Tam? Yes. Wild work in view of the city with...can't think of her odd name, wrote a book about...all blank...starts with a C...story of my life these days. Without google I could never find what I already know. Time for dinner.

After dinner I read this and the name falls into my consciousness: China Galland. I had to go to google for the title of the book, though. Women in the Wilderness. At least I got "starts with a C."

Here's another.

The prompt was:

A sister--colorblind

her parents--the moon is dangerous

Here's my writing

She was the big sister, the protector. She had to be strong. She loved her little sister but she envied her, the little sister who could see all the colors of the world as she could not. Why did she not have that right?

Both sisters had been taught that it was dangerous to look at the moon, but the elder loved to go out on moonlit nights when all colors were one, and she could see as well as anybody.

One night, as she was sneaking back into the house, her father caught her.

"Where have you been?" he said. His voice was quiet but angry. She could not tell him she had been looking at the beauty of the night. What would he understand of beauty? He was all about binding her in, telling her the world was too big for her, making her small.

"I have looked at the moon," she said, "and the moon is bigger than you are. It is stronger. And one day I will be too. The moon is dangerous, but to you, not to me"

Her father put her in a closet where there was no moon, no light at all, but she had seen the moon, and he could not put that light out.

Comment from Renee posted 2-21-2022:
"She could not tell him she had been looking at the beauty of the night. What would he understand of beauty? He was all about binding her in, telling her the world was too big for her, making her small.

"I have looked at the moon," she said, "and the moon is bigger than you are. It is stronger. And one day I will be too. The moon is dangerous, but to you, not to me" "

****

Lovely writing. I like the wander early on and the story here of the moon and it's strength and the strong voice of the protagonist standing up to her father. So glad you are blogging.