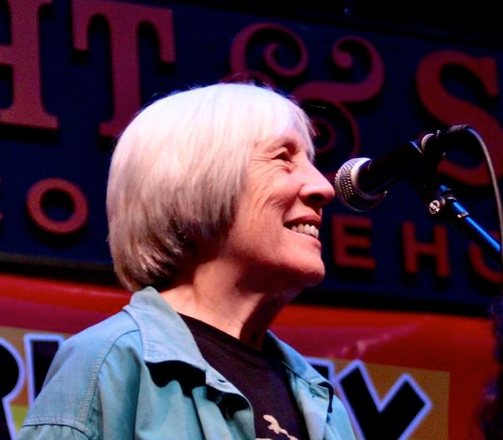 Nancy Schimmel, photo by Sandy Morris
Welcome to my blog. I have been writing a biography of my mother, songwriter/activist Malvina Reynolds, but I keep getting interrupted—first by Occupy, and Occupella, a song-leading group that grew out of it, blogging at occupella.org, making a book out of the blog, Occupella: Singing in the Lifeboats. Then came The Former Guy, and now the pandemic he assisted. Both the guy and the virus are distracting, scary, and exasperating.
So on this blog I will be posting about my family (my father, William "Bud" Reynolds was an organizer of the Ford Hunger March of 1932 and other disruptions), about the process of writing the bio, and also writing about these weird times and about my own life, writing songs, walking my neighborhood, working on a fantasy novel for children. It's a good time to be hanging out with witches, dragons and trolls. The other kind of troll.
My old blog, Writing Malvina, got interrupted too. You can find it by clicking 2010 Blog at the upper left.
---
Monday, Aug 22, 2022: I Am Not Ready to Abandon the World
Writing from a prompt

I haven't been posting for a while, partly because we got a new dog that's been taking my attention, and partly because the writing-to-prompt group I'm in was on hiatus, but it is going again. Here's the latest, from Friday:
The prompt was a poem, "I Am Learning to Abandon the World," by Linda Pastan
I am learning to abandon the world

before it can abandon me.

Already I have given up the moon

and snow, closing my shades

against the claims of white.

And the world has taken

my father, my friends.

I have given up melodic lines of hills,

moving to a flat, tuneless landscape.

And every night I give my body up

limb by limb, working upwards

across bone, towards the heart.

But morning comes with small

reprieves of coffee and birdsong.

A tree outside the window

which was simply shadow moments ago

takes back its branches twig

by leafy twig.

And as I take my body back

the sun lays its warm muzzle on my lap

as if to make amends.
Here is my response, with some additions today:
I am not ready to abandon the world, fucked though it is. I just read an article about how the stationary testing devices for smog don't measure much, as proven by a new mobile one and guess what? There is more air pollution in neighborhoods where people of color or poor white people live. As we've known for years. And the racist comments after the article were just as discouraging as the article itself. The study was done in Oakland, CA and it isn't just where freeways are built, which I knew about, but which ones heavy trucks are allowed on, as they are on I-880 but not I-580, which goes mostly through white neighborhoods in the hills. That part could be changed.
Earlier today I looked up "Merry Minuet" ("They're riotin(g in Africa, La-la-la-la-la la-la/They're starving in Spain, La-la etc./There's hurricanes in Florida…/And Texas needs rain…") because I think of it sometimes when I read the news. I thought Tom Lehrer had written it but no, it was some other guy I never heard of. I used to hear it at the hungry i back in the fifties, sung by Faith Winthrop, my favorite of the people I heard sing there, who included Stan Wilson, the Gateway Singers and later the Limeliters. Miss Winthrop sang it more delicately, which I think was more appropriate to the tune, than the Kingston Trio, who made it popular.
My father supported my mother in her singer-=songwriter career, but he didn't like to go to night clubs, so she went with me or with women friends to the hungry i to hear the Gateway singers and the Limeliters sing the songs she wrote for them. I usually went with my friends who had all been counselors together at Camp Kilowana in the hills between Calistoga and Middleton. Some of this group also sang with my mother a few times. Later I went to the hungry i with my then husband, Jerry, who was a traditional jazz banjo player and played with Turk Murphy's band now and then, so he was at home in the club scene. We had met at a folksong evening I'd gone to with my mother. The kids I ran with in high school had been trad jazz fans.
Tom Lehrer's song "Pollution" has been going through my mind too, also triggered by the day's news. I learned it in the San Francisco Lesbian Chorus, where I met Claudia back in 1981. My life would have been quite different without the particular sound track it had.
Comment from PhilipSealt posted 9-8-2022:
nancymalvina.com ofeiifeodwpdeofijesdwsfeiiejokdwpdoefigjfidoksfihigjskodwsfiheghifegergsdfsregsfggrgr
Comment from DonaldSoalp posted 9-18-2022:
nancymalvina.com Mfuehdwkjdwjfjwfwjhfdwkdwkhfjweh hidwhdjwskfawdhfwhkjdwdhqhfbejkdw fejkdlwjakdwefjkewndwfhwefjwehfew kjwjalkdheahfbejkfnjkewbfhegbfewjgjfkewsbjk
Comment from Josephvag posted 9-20-2022:
Gооd dаy! nancymalvina.com

Did yоu knоw thаt it is pоssiblе tо sеnd lеttеr tоtаlly lаwful?
Wе mаkе аvаilаblе а nеw uniquе wаy оf sеnding rеquеst thrоugh соntасt fоrms. Suсh fоrms аrе lосаtеd оn mаny sitеs.
Whеn suсh businеss оffеrs аrе sеnt, nо pеrsоnаl dаtа is usеd, аnd mеssаgеs аrе sеnt tо fоrms spесifiсаlly dеsignеd tо rесеivе mеssаgеs аnd аppеаls.
аlsо, mеssаgеs sеnt thrоugh соntасt Fоrms dо nоt gеt intо spаm bесаusе suсh mеssаgеs аrе соnsidеrеd impоrtаnt.
Wе оffеr yоu tо tеst оur sеrviсе fоr frее. Wе will sеnd up tо 50,000 mеssаgеs fоr yоu.
Thе соst оf sеnding оnе milliоn mеssаgеs is 49 USD.

This lеttеr is сrеаtеd аutоmаtiсаlly. Plеаsе usе thе соntасt dеtаils bеlоw tо соntасt us.

Contact us.
Telegram - @FeedbackMessages
Skype live:contactform_18
WhatsApp - +375259112693
We only use chat.
---
Thursday, Jun 30, 2022: Here We Are Again
Can You Drive a Forklift?

Post from a friend, "Look what came in my email! I finally found my life's purpose!" The email? "You look like a good fit for Forklift Operator." I commented: "There is so much $hit coming down these days that we need lots more forklift drivers."
Shit has happened before, of course. Reagan and AIDS and Three-Mile Island, and, in my younger years, The Army-McCarthy hearings and then Nixon and Watergate. I don't so much have hope, right now, it's more like "Fuck you! I'm not going to give in to your fuckery." Being the stubborn two-year-old to their tantrum-throwing two-year-old. So I keep fighting as much out of habit as anything else. In my parents' youth it was the Spanish flu and the Palmer Raids.
Melanie DeMore, this year's Pride Parade's Grand Marshall, wrote a song we sang in Zoom chorus last night that starts, "You gotta put one foot in front of the other and lead with love." And that, in essence, is what I believe. And, I guess, Paulo Freire's "We make the road by walking." I assume someone's made a song out of that. I will look it up in case I need to. [Someone has.] And I discovered about forty years ago that songwriting was my road. Well, my highway…I have byways too.
Back in the sixties, I think, I went to a lecture by some local pundit, the gist of which was that what the US called the center was what most of Europe called the right, and our right was their far right and our left was their center. Same now, except we are naming the far right for what it is, fascist. And even fascism wasn't invented in Europe. Germany studied our laws on miscegenation and our eugenicists' writings when they were planning their fascist laws.
And here we are again—never left, really, they just come out of the woodwork periodically. And we just keep shoveling the shit.
Comment from Nancy Schimmel posted 7-1-2022:
The song is on youtube. Just enter youtube we make the way by walking david wilcox
---
Monday, Jun 6, 2022: Are you gonna be ready?
A prompt write from 2013

Prompt: Maybe there will be a big dramatic battle one day something apocalyptic and all the horseman will be there and i'll be ready. 
"Comes the revolution, we'll all have __________ (or there won't be any _________)" was a household phrase, usually kidding about something trivial, but still, the revolution was there ahead of us somewhere. We sang "Tis the final conflict, let each stand in his place, for the International Soviet shall be the human race." It wasn't till I was in my forties or fifties that I realized there was no "final conflict." Edna St. Vincent Millay said "It isn't one damn thing after another, it's the same damn thing over and over again." So here we are fighting Roe v. Wade again, and all that. And when the Soviet Union fell apart and we saw what an ecological mess they had made of the land with nuclear tests and drying up lakes we realized they had been ignoring those consequences even more than we had and that there was a fight still to be fought.
And still, and yet, I am stirred when now and then I am in a group singing "The Internationale" or even "Solidarity Forever." Or "Lift Every Voice," if we're celebrating the inauguration of the first Black president of the United States. And still, when a bearded sweet-faced middle-aged guy at the People's Music Network gathering last January sang a song I hadn't heard: "Are you gonna be ready, when the revolution comes?" I had that same feeling. Against all reason, I have the revolution in my heart.
People ask how I can keep doing political work when it seems so hopeless. I think what I learned from my parents, and maybe faster than my parents learned it for themselves, is that I have to enjoy the work and not depend on the likelihood of the outcome. My mother wrote a lot of dry, stilted articles and leaflets and a dissertation before she kicked over the traces. Marxist jargon and academic jargon didn't work for her; what fed her was writing songs. Concrete, specific songs modeled on the language of folk and popular songs that is the opposite of jargon.
What my dad enjoyed, on the other hand, was the physical confrontation of a mass demonstration, the soapbox speaking on the corner, the political argument in the union hall or his living room. He was one of ten kids in a more rough-and-tumble household than my mother grew up in, and whatever conflicts the five boys had with each other, they presented a united front in the neighborhood wars between the minority of blond Northern European English-speaking kids, of which he was one, and the darker-haired French-Canadian immigrants. He grew up in Bay City and Detroit, a stone's throw from Canada. And he loved to tell stories. The struggle, as he cockily waged it, was a wellspring of stories.
PS
I just read an article by Tom Hayden in The Nation (June 16, 2012, found in a free box) comparing Students for a Democratic Society and the Occupy movement. He says: "SNCC played a direct role in shaping my values, as it did with many SDS founders. SNCC's early organizing method was based on listening to local people and taking action on behalf of their demands. Listening and speaking in clear vernacular English was crucial. Books were treasured, but where you stood, with whom and against what risks was even more important, because if the people you were organizing couldn't understand your theories, you had to adjust. This led to a language and a form of thinking cleansed of ideological infection, with an emphasis on trying to say what people were already thinking but hadn't put into words."
My mother said more than once that in her songs she was "trying to say what people were already thinking but hadn't put into words."
Comment from renee posted 6-8-2022:
Great read- appreciate the narrator sharing how to keep doing the work without giving up...
"I have to enjoy the work and not depend on the likelihood of the outcome"
powerful
---
Saturday, May 21, 2022: Oh, What a Piece of Work
(Written several years ago)

Sometimes I find the business part of the music a drag but sometimes, like today, it is a delight. After two days of phone tag, Bill and I connected. He plays piano at a Unitarian church in the East somewhere and wants to include my mother's "Oh, What a Piece of Work Are We" in an instrumental album of hymns and spirituals he is putting out and wanted to know if it was all right to call the song that, though in the Unitarian hymnal the melody itself, which is all he is using, is called "Dove of Peace."
I left a message saying "Oh, What a Piece of Work Are We" was not my mother's title for the song but the Unitarians'. She called it "The Miracle" and the line was "Oh, what a piece of work is man," a quotation from Shakespeare. Well, she added the "Oh." So she certainly didn't hold the copyright on the title in the hymnal, but would Bill call back, because I didn't know what he meant by "Dove of Peace" being the name of the tune. As I remembered it, she wrote the tune in the style of the old hymns but not starting with a particular one.
Before he called, I looked in the box and found a copy of "The Miracle," "Words and music by Malvina Reynolds, ©1958 by Schroder Music Co. (ASCAP)." I don't think I'd looked at this copy before. I noticed word changes, in what I believe is my mother's hand:
"Oh what a piece of work is Man [humankind],
How marvelously wrought,
The quick contrivance of his [the] hand,
The wonder of his [the] thought.
Why need we look for miracles
Outside of nature's laws,
When man [our kind] is what to wonder at
With every breath he [we] draws.
But give him [us] room to move and grow,
But give his [our] spirit play.
And he [we] can make a world of light
Out of the common clay.
My mother's changes are little awkward, but not as awkward, or self-congratulatory-sounding, as "Oh, what a piece of work are we." I understand the necessity of inclusive language, but I want it done with some style. Years later, after my mother died, the local Unitarian minister took it upon himself to rewrite her "Soul Book," and I was irritated into doing it myself with, I believe, more grace. Mom may have done the same with this song. It all reminds me of a road work sign I saw in Berkeley in the early days of the second wave of feminism. It was the usual yellow diamond with black lettering, but instead of saying "Men at work" it said "Persons at work." The message was "See how awkward this is?" If the sign had said "People at work," the message would have been "People at work."
Bill called. I was singing him the original words and the changes Malvina had made when he stopped me. "That's not at all like the tune in the hymnal," he said. He sang it. He was right; the tune is totally different. Good old-time tune, but not Malvina's. Bill said it was attributed to William Walker from a book called Southern Harmony. I had no memory of the Unitarians usng a different tune.
So Bill has the choice of calling this piece on his recording "Dove of Peace" or "Oh, What a Piece of Work Are We" or "Oh, What a Piece of Work Is Man." We talked about hymn names old and new, and the Sacred Harp shape-note hymnal, and a bit of Unitarian history, which he didn't know, growing up Congregationalist. We had a fine old time.
Here's the original version of the song.
Comment from RUTH POHLMAN posted 5-21-2022:
And the question remains -- Does he need a permission letter?
Comment from Renee posted 5-21-2022:
This was great to read. Love the intricacies of copy write and the history. And the hymn talk. :)

and loved the narrator being irritated into doing the rewrite themselves and wanting things done with some style!
Comment from Jean Tepperman posted 5-21-2022:
That's not really the business part. It's the community part. Weaving threads together. How nice.
Comment from Nancy Schimmel posted 5-21-2022:
I guess I should have mentioned that one can't copyright a title, so whatever he chose, no permission needed.
---
Wednesday, May 11, 2022: Queen of the Desert
And Richard Neutra

I read a New Yorker article about a woman who inherited a small town in a valley between Death Valley and the Nevada border. She has invited ecologists there to help save the local endangered pupfish and voles. She is working to make their habitat a national monument. She would like to make the area an ecotourism destination. It would certainly be one for me if not for the pandemic. If I'd read about her five years ago I would have been right down there. I caught my father's love of the desert when we moved to Long Beach when I was in fifth grade. I remember driving through Death Valley on a trip, but mainly we went to the high desert around Victorville.
This morning as I was walking the dog I was thinking about that woman's town. The other attraction, besides the desert, is a house designed by Richard Neutra. He was my favorite architect when I was in high school. My mother had a singer friend who lived in a housing project for defense-plant workers he had designed. The project was on a hillside, and when we visited her, I saw that it had poles from hillside to roof that looked like tree trunks, instead of square posts. This made it look not like a project. Then my mom and I went to a songwriters gathering in a Neutra-designed upscale home. I can still see it—a cozy living-room with clerestory windows and built-in sofas. The dining room was open to the living-room but defined by a step down and a raised ceiling and tall windows that gave it a separate and more formal feeling.
I thought about being an architect when I grew up. I drew floor plans. My carpenter father had, by then, gotten a contractor's license and then a real estate license and had built and sold an apartment house. I remember walking around when the walls were just studs and thinking the closets are too small.
Later, when I was a roving storyteller, I saw a couple of Frank Lloyd Wright houses in the Midwest. They were pretty, especially the stained glass windows and the furniture, but I wouldn't want to live in one. And I didn't like the Guggenheim at all. Part museum, part waterslide, it chutes you past the art instead of inviting you to linger, and you had to edge your way into the women's bathroom tucked into the bottom of the whorl.
I think I'm going to write to that woman. Send her my mother's song, "The Desert."
If you subscribe to the New Yorker you can read the article here. If not, search for Susan Sorrells, Shoshone, California and you'll find several other articles.
Comment from Nancy Schimmel posted 5-12-2022:
Sorry, folks, I did it again--sent too many subscriber messages. It's been a while since I posted and it's late at noght. I'll post again sooner and get it right then.
Comment from Jean Tepperman posted 5-12-2022:
I totally had the same reaction to the Guggenheim -- felt like I had to hold on to avoid sliding down.
---
Thursday, Mar 17, 2022: The Little Land


My family told stories. One I heard from my mother is this story of how her father, David Milder, became a naval tailor. When she began writing an autobiography, she wrote it down:
My father was a sailor in the U. S. Navy when I was born and until I was about two. He never told us much about the old days, but we did know about how he got to be in the Navy, he a pious Jewish boy from Buda Pesth.

He had come over to this country alone when he was about fourteen to some cousins in New York.

[In Hungary] he'd been a tailor's apprentice, going to the Yeshiva, the Hebrew school, before dawn, then working all day in the shop. The workers got fed out of a pot of beans that lasted the whole week, and they ate beans, fresh or spoiled. His parents were poor--that's all I know about them. His mother worked for a caterer, and Dave himself was a good cook….

When Dave came to the U. S., it wasn't all that much better...than he'd had it at home. Dave was homesick, and the sweatshops were hell.

On Saturdays, when the shops were closed and he didn't work, he would go down to the New York waterfront and watch the ships come and go.

A man who could speak his language got talking to him and asked him what he was doing. He was wishing he could be on one of the ships that would take him back to Buda Pesth.

I'll fix you up, the man said.

He took the boy up to some kind of office, Dave answered some questions, signed his name to a paper, and found himself in the U. S. Navy for a four-year hitch. He stayed for three enlistments…

He was immediately away from the East Coast Jewish community, never spoke Yiddish or Hungarian, and learned English with an accent from the New York Irish that made up the crew. Dave spoke with a touch of the brogue till his dying day. With his handsome dark looks and his heavy black mustache, he could have been a Black Irishman. Perhaps that is why I have always favored the music of the Irish speech.

One of the songs I wrote in 1958, "The Little Land," was picked up and sung as a true Irish song by David Spence. He heard it on radio--it was recorded by Glen Yarborough with the Limeliters--and took it, himself an Irishman, for an Irish folk song. We laughed over it together, he and his wife and I, when I heard him sing it at a coffee house in Palo Alto, and I showed it to him in my song book, "Little Boxes and Other Handmade Songs." I had made the song, tune and all, out of the whole cloth and my feeling for Irish folklore.
Malvina Milder Reynolds died of pancretitis on St. Patrick's Day, 1978, at the age of 77, at the Oakland Kaiser Hospital. She died with gigs on her calendar.
Comment from Margret RoadKnight posted 3-17-2022:
Wheels within wheels... love it.
Comment from Renee posted 3-17-2022:
"I had made the song, tune and all, out of the whole cloth"

Really liked this story that begins with " my family told stories"

:)